Villgro on Twitter: "Perspectives for raising capital from investor & Entrepreneur perspectives with @mathbuddyonline and @MenterraVA at #Unconvention #Chennai"
Change is the only constant thing. Yes, we thoroughly believe in that. The team at Math Buddy is constantly engaged in developing new features that facilitate the students and teachers according to their needs.
The latest features are aimed at providing even more flexibility to the teachers and help them assign activities, smart sheets or assessments according to the needs of individual students.
The new feature "Assign to selected students" can be a boon for teachers when they want to assign different items to different types of students according to their level of understanding. Teachers can assign basic activities, smart sheets and assessments to weaker students to bring them up to the level of the rest of the class and assign more challenging items to brighter students to keep them motivated and challenged. In a way, this feature enables a fair chance of competition to students.
For those teachers who are teaching multiple classrooms in the same grade, you have the ability to select students across multiple classes from a single screen, saving a lot of your valuable time. Isn't that wonderful?
Teachers can add or remove students anytime for any of the assigned activities, worksheets or assessments.
We hope these enhancements will make Math Buddy even more useful for teachers. As always, we look forward to your suggestions and will be happy to hear from you anytime.
You can write to us at support@mathbuddyonline.com
Team Math Buddy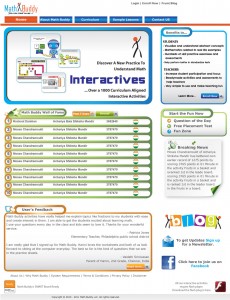 It brings us immense pleasure to inform you that Math Buddy now has a complete fresh new look. Our team has been working very hard the last few weeks to create a new colorful layout with useful widgets that provide clear and updated information.
There is a new Math Buddy Wall of Fame that shows the top ten students for the past 7 days in terms of points collected. Students can collect points by playing with activities, doing smart sheets and assessments. We believe this will encourage students to try their best in getting their names on the Wall of Fame, and during this process, they will get lots and lots of practice with math concepts.
In addition to Wall of Fame, we have also added a column called Breaking News which has been designed to highlight any achievements, such as getting on the leader board of any activity or improving their position on the leader board etc. Again, the intent is to make it interesting for students and encouraging them to use the system more and more.
Our objective, as always, has been to add features that will help make students enjoy learning and practicing math.
We will be happy to hear your feedback and any suggestions that will help us further improve the system.
Happy Learning!
Best Wishes
Math Buddy Team