Visual Math Learning
http://www.mathbuddyonline.com/blog/wp-content/uploads/2016/02/Visual-Math-Learning-01-1024x631.jpg
1024
631
admin
admin
http://1.gravatar.com/avatar/4281060985443ada8cbf3f192a4cba8f?s=96&d=mm&r=g
visual Math learning happens to be among the most complex subjects for majority of students in schools. Understanding the logic and fundamental concepts seems like an uphill task for these students. Even the students who seem to enjoy mathematics in primary grades begin developing some kind of an aversion towards Math as they get to higher classes. One of the possible reasons for this could be that the concepts become more complex at higher levels of education and learning with understanding becomes more challenging for many students.
With technology, visualizing such concepts and understanding them has become much easier. There are several visual and interactive technologies that not only help in understanding the fundamentals of math, but also enhance the interest of children to a great extent. When children are able to visualize and understand the concepts, there is no reason to have any fear or hatred for mathematics. Children then start to enjoy learning math.
Our objective with visual Math Buddy has been to create visual interactive tools that help teachers to illustrate mathematics concepts in the classroom and for students to visualize and understand the concepts better. There are over 1000 interactive activities and manipulatives covering all the topics from grades 1 to 8 to help enhance math skills in children. In addition to activities, there are also smart sheets and ability to create customized assessments to help children practice math concepts.
The biggest advantage of learning with Math Buddy is to help your kid learn math with understanding and practice math concepts while having some fun.
So let us start enjoying math.
Get rid of the thought that math is a monster.
Hit the math, just do it.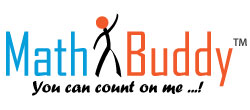 To know more about Math Buddy visit www.mathbuddyonline.com